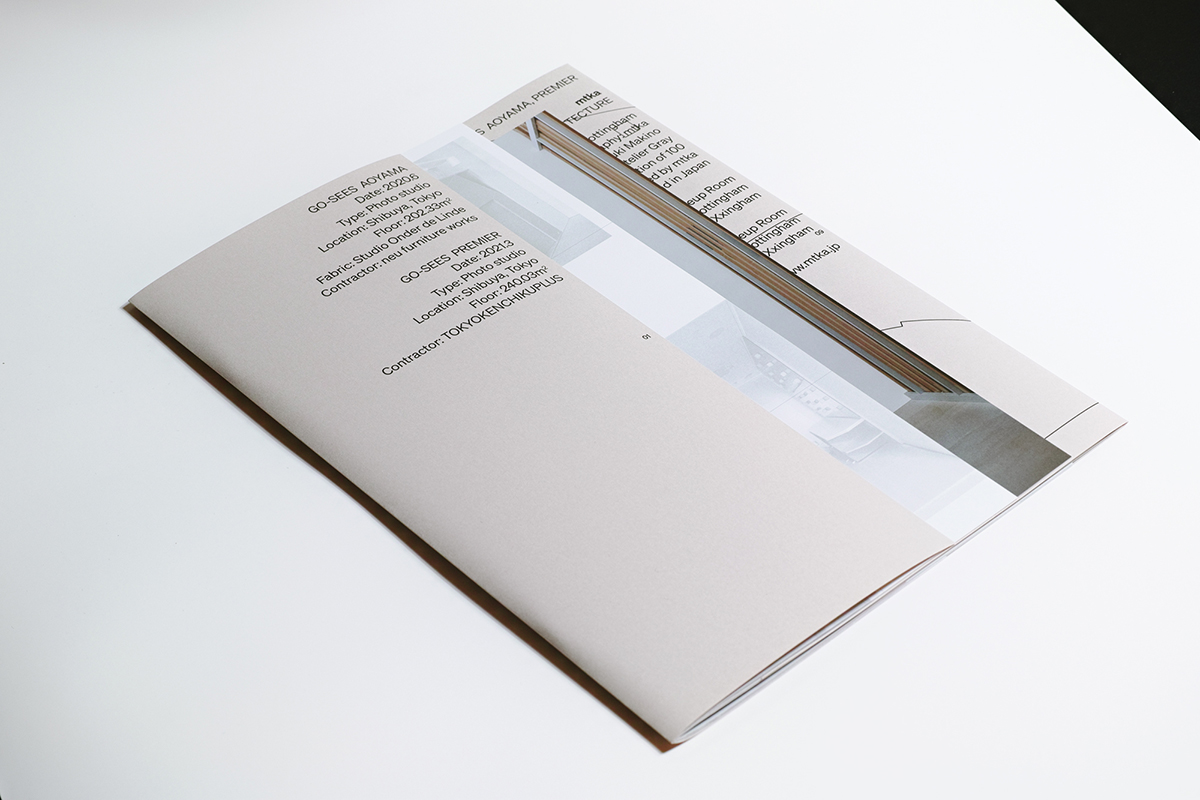 ムトカで設計した「GO-SEES AOYAMA」と「GO-SEES PREMIER」を題材にしたアートブック『GO-SEES AOYAMA, PREMIER / mtka』が販売されました。
"GO-SEES AOYAMA, PREMIER / mtka", an art book about GO-SEES AOYAMA and GO-SEES PREMIER designed by mtka, is now available for purchase.
*
東京を拠点に活動する建築家mtka(ムトカ建築事務所)によって設計された、2つの写真スタジオ"GO-SEES AOYAMA / GO-SEES PREMIER"に焦点を当てた作品集。本書は、主に、空間の基本情報 / 建築家による模型写真 / 写真家による竣工写真の3つの要素で構成し、スタジオを設計した建築家 / 写真家 / 書籍設計を行なったデザイナーの間に優位性はほとんどありません。そして、空間の基本情報 / 模型写真 / 竣工写真を、それぞれ任意の紙種 / 紙厚 / 判型 / 印刷方式に分類し、どのページにおいても複数の要素が重なるように構成しています。
2つのスタジオは、異なる場所(青山、恵比寿)の既存のビル内に存在し、共通する設計思想―既存のビルの外形を手がかりとして設計されました。青山では一辺がRを描く大きな矩形平面に小さな矩形が斜めにひっついています。恵比寿では角敷地の建築制限により隅切りされた平面を持ちます。これらの平面の特性を、青山では空間をメイクアップするためのオブジェクトとして、恵比寿では動的な空間へ変化させるための要素として抽出しています。本書では2つのスタジオを共通するモチーフであるメイクアップルームの「鏡」によって接続し、どちらの空間の写真なのかをなるべく特定できないように配置しています。そして、写真家の特異な視点によって切り取られた写真と、設計過程で生まれた意識の痕跡とも言える模型写真を、特殊な造本によって空間化し圧縮します。本書では、写真スタジオのような特殊な条件下でのみ経験可能な実際の空間を、視覚的な経験を様々な方法で増幅させることによって擬似的に経験可能か?について考察しています。
This book focuses on 2 photo studios "GO-SEES AOYAMA" and "GO-SEES PREMIER" designed by Tokyo based architectural studio mtka.
The book was mainly composed by the following 3 elements: Basic information of the space / Models' photos took by the architect / Completed buildings' photos shot by a photographer. There is almost no superiority between the architect who designed the studios, the photographer and the graphic designer who designed the book. Furthermore, the 3 elements cited above were arbitrary classified in different paper type / paper weight / paper format / printing method and all the pages are designed so that several elements overlap each other.
The 2 studios are located in existing buildings at different locations (Aoyama and Ebisu) and were designed based on the same concept, which is to use the outside shape of the existing building. In Aoyama, the existing building has a large rectangular plane with an arc on one side and a small rectangle diagonally attached to it. In Ebisu, the existing building is sited in a corner lot and has a corner cut-off plane as a result of building restriction. These characteristics were extracted: In Aoyama, as an object that makes up the space and in Ebisu as an element that modifies the space dynamics. In this book, the 2 studios are connected by the makeup room "mirror" which is a common motif of those studios, and the pictures are placed so that the reader cannot identify which space it refers to. Furthermore, the pictures shot by the unique point of view of the photographer and the models' pictures which represent the traces of the architect consciousness during the designing process are compressed by a particular bookmaking method to create a space. This book is a reflection about how to enable a virtual experience of a real space (like a photo studio) that can be experienced only under specific conditions, by multiplying visual experience in various ways.
Pages: 38 with various formats
Size: W225×H305 (mm)
Price: 3,850yen (tax-in)
Color Photography: Gottingham
Model Photography: mtka
Book Design: Masayuki Makino
Printing: Atelier Gray
Edition of 100
Published by mtka
Printed and Bound in Japan
"Untitled(Photogenic Makeup Room #31–406)", 2020 ©Gottingham
Image courtesy of Mtka and Studio Xxingham
"Untitled(Professional Makeup Room #114–311)", 2021 ©Gottingham
Image courtesy of Mtka and Studio Xxingham
アートブック『GO-SEES AOYAMA, PREMIER / mtka』 発売